Zenith 1800 Concrete Block Making Machine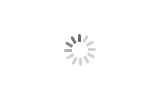 Zenith 1800 Concrete Block Making Machine
Zenith

Germany

3-6 months

1 sets per month
Brand Model NO.:Zenith 1800
Top intelligent production equipment.
Zenith 1800 is a model of successful improvement according to the principle of mechanical design. It has the characteristics of rapid production, high quality products, and diversified productions. It more efficient in the production of paver, curbstone and other products with top-layer.
Zenith 1800 block machine is a model of successful improvement according to the principle of mechanical design, It has the characteristics of massive production, high quality products, diversified production, etc. The unique design concept of the equipment makes the equipment have the performance of accurate operation, simple operation and simple maintenance, etc. Under the increasingly strict engineering safety requirements, the equipment is more efficient in producing interlock, Curbstone and other products with colored layers.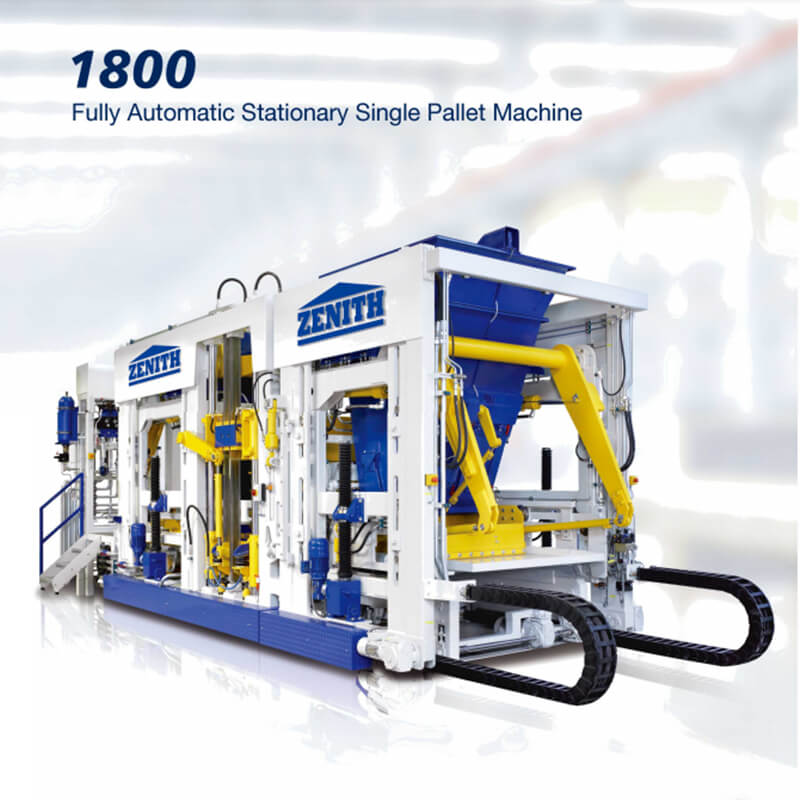 In order to minimize the cycle time and optimize the production process, Zenith has cooperated with well-known component companies to improve the hydraulic system and electrical equipment. The four main movements of the improved 1800 machine, such as mold lifting, indenter lifting, base-mix material feeding frame driving and face-mix feeding frame driving, are all controlled by HNC control circuit. Make the equipment run faster and more accurately.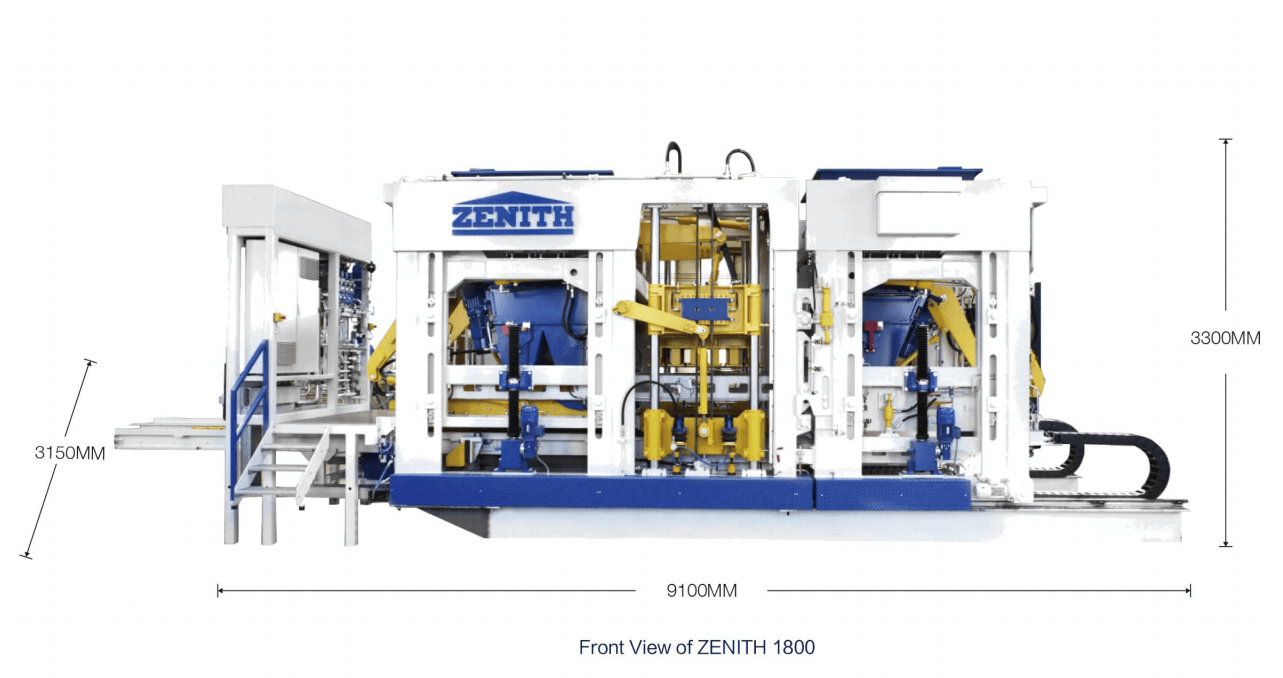 Zenith has carried out a brand-new development on the vibration system of Model 1800 paving block machine to break through the limitation of production capacity, including using the newly developed frequency conversion control motor vibrator to make the equipment more stable and flexible. The maximum forming area of Zenith 1800 block machine maker reaches 1,400 × 1,400 mm (Pallet size).
Characteristic
Max. Product Height
500mm
Min. Product Height
50mm
Optional Product Height
25mm
Standard Pallet Size
Max.
1400 x 1400mm
Different Pallet Sizes are optional
Bae-mix Hopper
Capacity
2400L
The hopper capacity can be adjusted according to the size of the pallet size

Face-mix Hopper

Capacity
2,400L
Different hoppers can be selected for Multi-color production
Max. Feed Height
3,900mm
Equipment Weight
With Face-mix Device
32T
Equipment Dimensions
Total Length
9,100mm
Total Height (transport)
3,300mm
Total Width (transport)
3,150mm


Vibration System
Vibration Table (Pallet depth can reach 1200mm)
Three parts
6 Vibration Motors (max. centrifugal force)
170KN
Vibration Table (Plate depth can exceed 1200mm)
Two parts
8 Vibration Motors (max. centrifugal force)
230KN
Upper Vibration Motor
2 Vibration Motors (max. centrifugal force)
35KN
Hydraulic
System: Multi-loop, medium voltage
Total Capacity
315L/min
Max. Operating Pressure
180bar
Optional Accumulator Buffer
Electrical
Connection Power Supply with Face-mix Device (standard)
210kW
Control System (Siemens)
S7-400
Desktop/panel Version of Computer Visualization System (WinCC)
Technology Advantage of Zenith 1800 Concrete Block Machine:
1. Zenith "Ultra-dynamic" servo vibrationtechnology
"Ultra-dynamic" servo vibration technology is a high-efficiency, self-adaptive vibration system speciallydesigned for block machine; The servo motor can makethe fastest response in the shortest reaction time, realizethe highest vibration performance, reduce the cementconsumption, shorten the production cycle, and producehigh-density concrete products at the production place; Vibration system can adapt to the production requirements of different concrete products.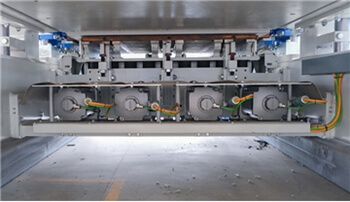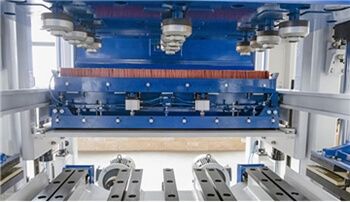 2. Accurate & quick mold changing system
Automatic quick mold changing system is a system basedon multi-device linkage and cooperation, which realizesrapid mold changing through intelligent system operation.when the mold is transferred to the main machine, thehoisting system realizes automatic mold change on thequick mold change device, and the tamper head and moldbox are pneumatically clamped automatically; Safe,efficient, easy to operate and maintain, and the moldchanging time is 10-15 minutes.
3. High precision servo hydraulic system
The hydraulic system adopts high-end variable displacement pump and feedback servo valve system;Pressure, speed and position are closed-loop digitalcontrol, which can automatically adjust the flow and pressure of hydraulic pump. Independent oil temperaturecontrol system has high automation degree and precision,and the working efficiency can be improved by 10%-20%;lt has the characteristics of energy saving, noise reduction, high efficiency and environmental protection.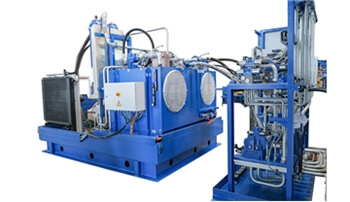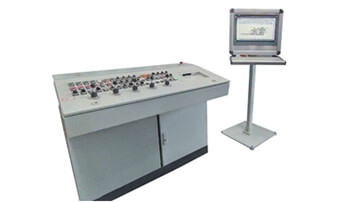 4. Fully integrated automatic control system
Adopt the most advanced automatic control platform ofSiemens TIA-Portal series PLC in the world; lt has faster,more precise and more stable operation ability and anti-interference ability. Flexible output through platformcontrol technology can avoid fierce impact action ofequipment and prolong service life of equipment. Visualdisplay and diagnosis of human-computer interactionsystem and control system signals greatly facilitateoperation and work.
5. Intelligent feeding system
The feeding system adopts the patented feeding technology of 360 rotary stirring, and the stirring group isequipped with simulation calculation stirring rollers, whichcan intelligently adjust the feeding mode according todifferent specifications of molds; Realize the uniformityand efficiency of feeding; It can be more suitable for thebest feeding mode of special materials such as construction waste and tailings; with cylinder scrapingand blowing device, it can avoid the influence of aggregate residue on fabric color, and make the surfacecolor of products more beautiful.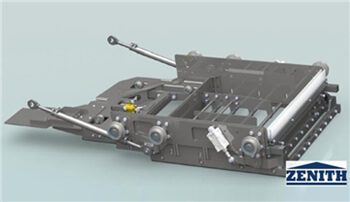 6. Accurate servo control system
Through signal feedback, the phase and speed ofvibration are controlled, and the synchronization is high;High-speed standby and high-frequency operation canshorten the cycle time by 1.5 s with high efficiency;Theservo controller is a book-type single-axis motor module,and the driver adopts a common DC bus connectionmode (renewable energy can be utilized and recycled),which can reduce energy consumption by 15%;Thebraking effect is better.
7. German Version of High-quality Frame Design
The main frame adopts the high-strength welded framestructure designed by Zenith brick machine technology,which is welded by customized special section steel.Thedesign is reasonable, the welding is uniform and beautiful,and the whole frame is treated by aging vibration to ensure the high quality and high stability of the frame.Theadvanced structural design process makes the mainmachine expandable, and the side mold opening andclosing function cabinet, board drawing (core) functionand polystyrene board implantation function can be addedlater.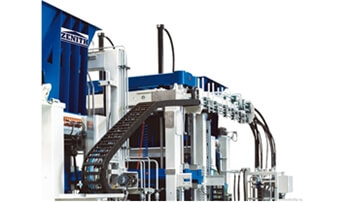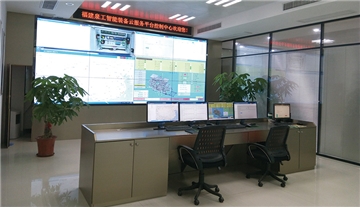 8. Leading intelligent cloud service system
QGM&Zenith Intelligent Equipment Cloud ServicePlatform realizes online monitoring, remote upgrade,remote fault prediction and fault self-diagnosis, andequipment health status evaluation; Generate equipmentoperation and application status reports and other functions; Remote services can quickly diagnose andsolve problems for users. Everything is interconnected,and the production and operation of equipment can beseen through the network in every corner of the world.