Meeting丨QGM was invited to attend the 8th National Construction Solid Waste and Tails Treatment and Resource Utilization Conference!
12-09-2023
On August 23, 2023, the 8th National Conference on Treatment and Resource Utilization of Construction Solid Waste and tails Waste Rock and the Annual Conference of Construction Solid Waste Utilization Branch of China Sand and Gravel Association was grandly held in Heze, Shandong Province with the theme of "Solid Waste Resource Utilization Helps Reduce Pollution, Increase Efficiency and Reduce Carbon". The conference brought together more than 300 people from the relevant competent departments of construction solid waste and tails waste rock, scientific research institutes, various mines and tails disposal enterprises, concrete companies, new building materials enterprises, equipment production and other units, technical personnel, experts and scholars and relevant personnel from upstream and downstream industries. Quangong Co., Ltd. (hereinafter referred to as QGM.) was invited to attend and make a report.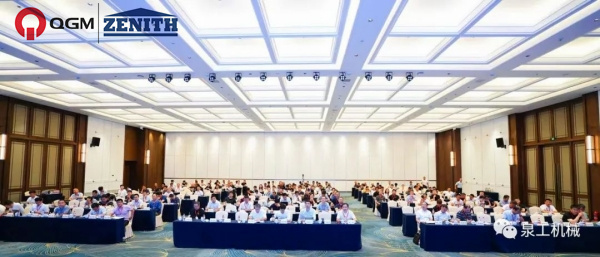 The conference focused on how to deeply implement the new development concept, establish and improve the working mechanism of construction solid waste (construction demolition waste and decoration waste) and tails waste rock, strengthen the source control of construction solid waste and tails waste rock, effectively reduce the generation and discharge of construction solid waste and tails waste rock in engineering construction and industrial production processes, accelerate the process of solid waste resource utilization, etc., so that solid waste resource utilization can help reduce pollution, increase efficiency and carbon emissions, and help achieve carbon peak at an early date.
As a leading enterprise in the domestic brick making machine industry, Guo Jirong, regional manager of our company, brought a keynote speech of "Solid Waste Brick Making - Green Intelligent Equipment to Build a Beautiful City" for the participants. The current situation of solid waste resource utilization in China was comprehensively expounded, and the comprehensive utilization technology of solid waste of QGM. was introduced to the participants in detail. And introduce the technical achievements of our equipment in the field of solid waste treatment and sand and gravel aggregate treatment. This technology can not only use solid waste such as construction waste and industrial slag as raw materials to produce block building materials, but also can further improve the added value of products through secondary processing to make new wall materials, garden landscape bricks, sponge city permeable bricks, curb stones, slope protection bricks, hydraulic blocks, interlocking bricks, etc.
At present, the annual solid waste utilization capacity of QGM brick machine can reach 300,000-800,000 tons per shift, which is a well-deserved "vanguard" to help the construction of national green circular economy and the construction of a waste-free city. There have been a number of successful examples of municipal engineering and garden construction, providing participants with a perfect "QGM Cooperation Plan".