Original Germany Zeinth 913 Mobile Hollow Block Machine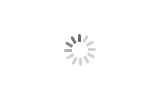 Original Germany Zeinth 913 Mobile Hollow Block Machine
Zenith

Germany

30-60 days

10 sets per month
Brand Model NO.:Zenith 913
Products range: Hollows, solids, foundation and chimney blocks – to mention only a few examples.
Features:
Manual Operation Mode/Fully Automatic Operation Mode;
Frequency Control;
Quick Assembky of Safety Gate.
Fully Automatic Hydraulic German Zenith 913 Cement Block Making Machine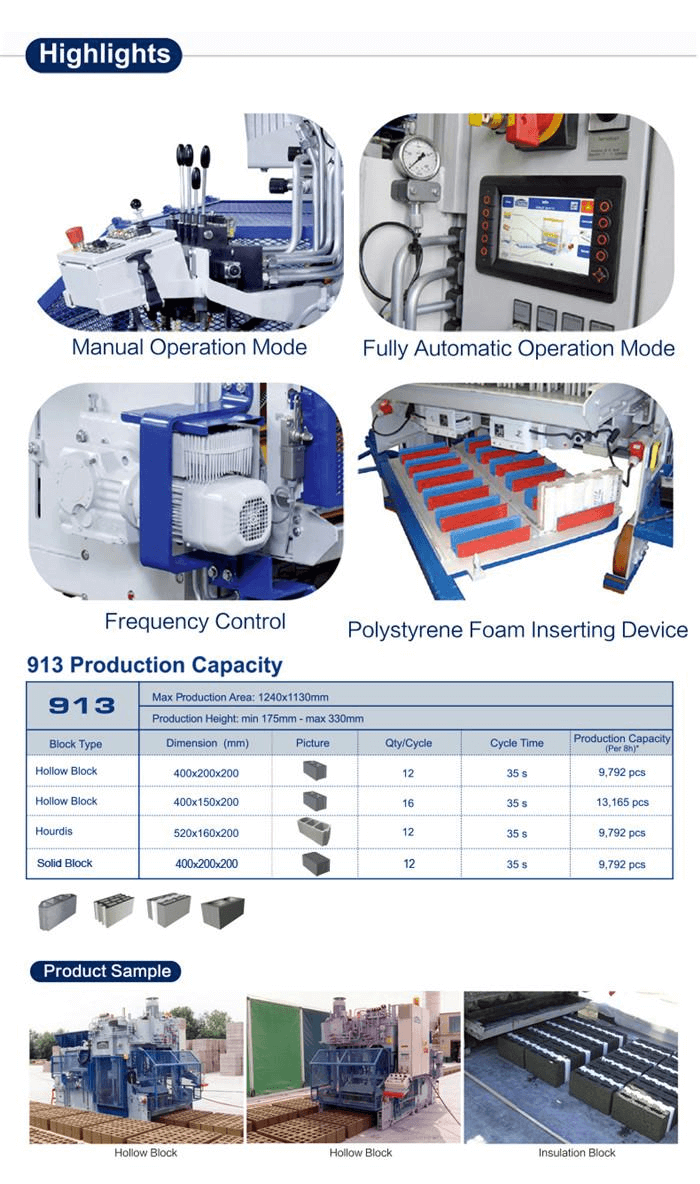 Model 913 – Economical, Flexible and Dependable
Hollows, solids, foundation and chimney blocks – to mention only a few examples.ZENITH model 913, , the ideal concrete block making machine for Economical mass production of high quality concrete blocks. Available in semi-and fully automatic execution. Outstanding performance in open area or buildings. Safe handling and well proven design principles guarantee efficient operation of ZENITH model 913, even still in decades. Different moulds are easily interchangeable. The machine produces concrete elements directly onto the ground, in lines – cycle by cycle. Running wheels of machine are outfitted with Vulkollan® coating for protection of concrete floor. Equipped with hydraulic shunting wheel for turning of machine at end of production lines. More than six thousand machines of this type are in operation – worldwide.
To simplify the operation for customers, the ZENITH 913 will be equipped as standard for a voltage of 400 V/50 Hz or 480 V/60 Hz only. For feeding of all other voltages, ZENITH will deliver a special transformer with the machine.
This new feature allows a worldwide operation without restrictions. It will no longer be problem to move the machine to another location. Another advantage is the quick availability of spare parts. Stock-keeping and purchase of parts for different voltages is no longer necessary.

ZENITH offers for all travellers comprehensive equipment for concrete block handling. Cubers with special clamps are available. Transport of fresh concrete from batching and mixing plant to block machine is preferably made with a forklift equipped with a hopper or with a special concrete loader. Ask ZENITH for the options available. Safety and quality are guaranteed by ZENITH providing original ZENITH parts are used.
Features of Zenith 913 Hollow Block Machine :
(1) Main movements of machine are controlled by proven directional SLF control valves. With the fully automatic machine, these valves are equipped with additional control magnets for automatic as well as for manual operation.
(2) Telescopic springs at the machine safety cage allow quick accessibility to mouldarea for easy cleaning and maintenance. Robust and easy to handle lock systems provide full safety.
(3) For production of insulating blocks, machine can be equipped with a polystyrene core insertion device.
(4) The specially developed transformer allows a worldwide use of the machine without laborious modification of the equipment. Existing machines can be retrofitted if needed. The transformer also offers the advantage to operate the 913 machine now with 4 mould vibrators at lower voltages like 220 V/60 Hz for example.
(5) Fully automatic machine 913 Speed & Comfort is equipped with a robust, fully automatic controller, specially developed for use with mobile work machines. The dialogue module with colour display and clearly arranged visualisation allow easy operator access.
(6) With machine 913 Speed & Comfort, the electric drive unit with frequency control allows a fast and at the same time gentle machine travelling. As an option, the machine can be equipped with ultrasonic devices for fully automatic correction of travel direction.
Layout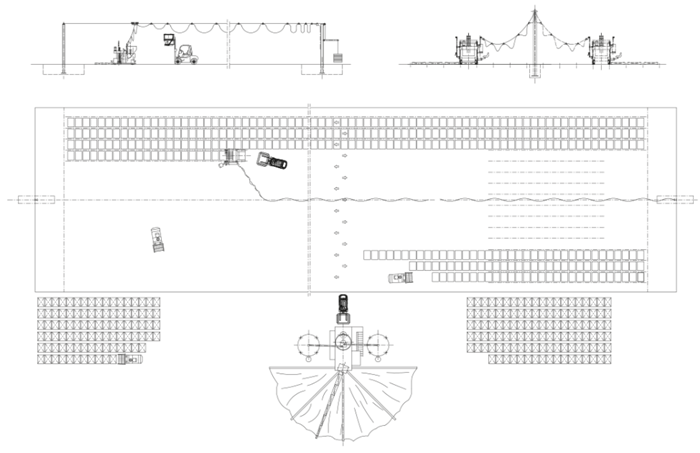 Project and product examples