Zenith 844 Fully Automatic Cement Brick Machine For Sale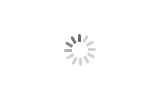 Zenith 844 Fully Automatic Cement Brick Machine For Sale
Zenith

Germany

45-90 days

10 sets per month
Brand Model NO.:Zenith 844
Features:
1.Highly-efficient Vibration & hydraulic system
2.Frequency Conversion Control & Energy-saving
3.Fully-automatic Control-Siemens System
4.Compulsory Feeding System
5.Intelligent Cloud System
Germany Zenith 844 Stationary Multilayer Brick Making Machine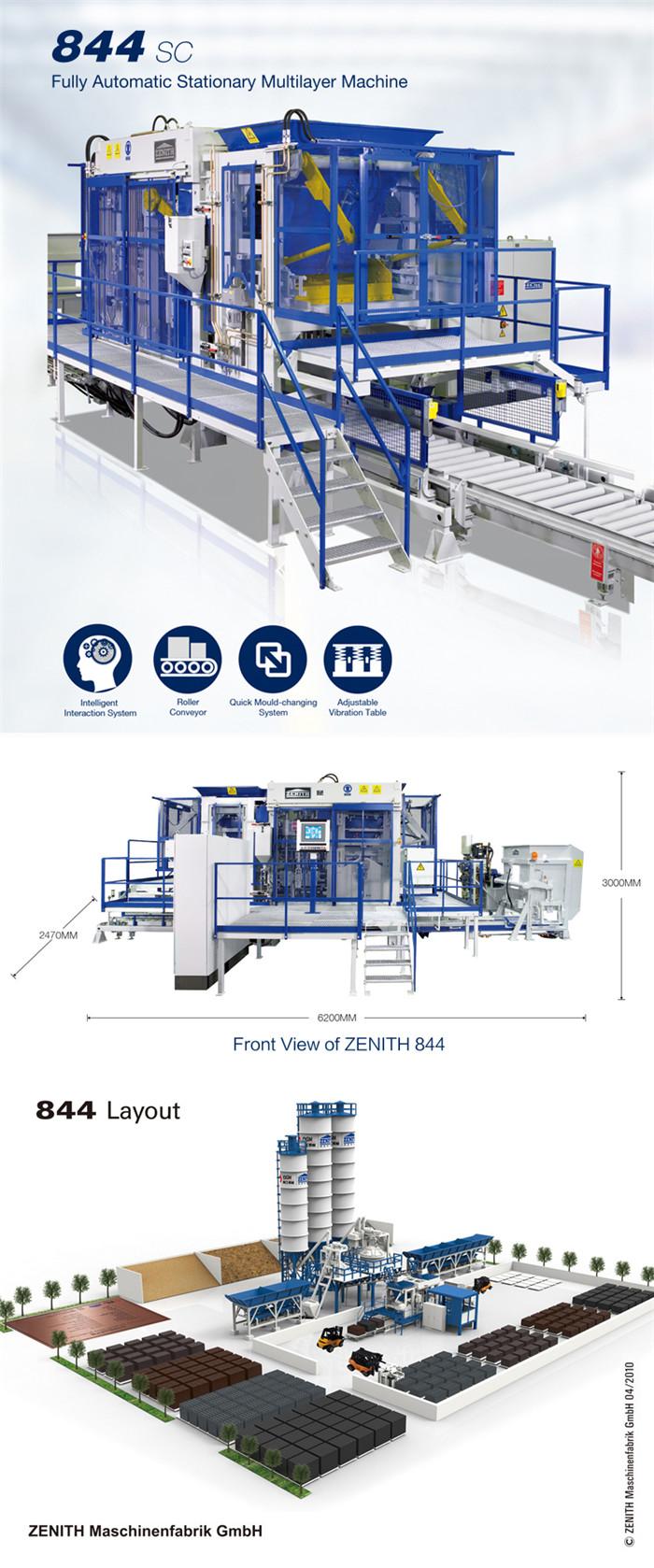 Worldwide the best in economical concept for the mass production of interlocking pavers and similar products of top quality. Model 844 is a fully automatic, Stationary multilayer machine. The result of decades of research using the most modern technology. Performance at high level with simple handling and very low maintenance. The innovative Touch-Operator-Panel, using a revolutionary visualized menu navigation, allows easy and self-explanatory operation of all machine functions.
Designed for products ranging from 50 mm to 500 mm. With model 844 pavers are produced as easy as curbstones or landscaping products. Using modular components, the production sequence can be fully automated to final cubes –ready for transport,Storage systems with robot for curing are the perfect answer. In addition, consolidating stations are available to match shipping requirements. Step by step, the manufacturing system can be expanded to a fully automatic production line.
When production is focussed on paving stones, model 844 is far superior to single pallet plants concerning the price-performance ratio, duration of installation and simplified handling. The ZENITH team will provide full assistance during an early stage to ensure your success, based on fifty years of experience. ZENITH – partner to the best.
QGM Zenith Automatic brick making machine is designed in Germany with frequency conversion technology. The block machine from QGM ZENITH contains many advantages:The innovative Touch-Operator panel with a revolutionary visualized menu, makes it possible for a simple and self-explanatory maintenance of all machine functions.
Along with paving slabs, model 844 may produce a variety of related products of road curbstone and decorative landscape.Using modular systems, machine can fully automate the production process from ready to send. Fully automated storage systems with lifting devices for the storage and unloading of packages with stone, it increases productivity and efficiency. Enable to pack finished concrete product according to clients'requirements. Reliable modular design of these units give you the opportunity for a phased investment. To help clients become completely the manufacturer of paving slabs, with short time of installation and easy maintenance, the model 844 far exceeds the production line with a closed cycle in terms of price and power. Model 844: ideal choice for road construction and landscape.
Machine Parameters
Product Height
Max
500 mm
Min.
50 mm
Max. Cube Height
640 mm
Max. production Area
1,240x1,000 mm
Pallet Size (standard)
1,270x1,050x125 mm

Base-mix Hopper

Volume
About 2,100 L
Machine Weight
With face-mix Device
About 16 T
Conveying device, operating platform, hydraulic station, pallet bin, etc.
About 9 T
Machine Dimensions
Max. Total Length
6,200mm
Max. Total Height
3,000mm
Max. Total Width
2,470mm
Machine Technical Parameters/ Consumption
Upper Vibration
Max35KN
Total Hydraulic Flow
83L/min
Working Pressure
SC180bar
Maximum Power
Standard 50KW 66KW
Control System
Siemens S7-1500(CPU317)SC
Zenith 844 brick machine production line factpry layout