15th Mediterranean (Tunisia) construction machinery and vehicle equipment exhibition
In the 15th Mediterranean (Tunisia) construction machinery and vehicle equipment exhibition held from March 6 to 9, 2019, among the numerous competing teams, QGM&ZENITH made an amazing appearance, which once became the focus of the exhibition site and attracted the attention of many enterprises.




The Mediterranean (Tunis) exhibition of construction and construction machinery and vehicle equipment is held every two years. And in Europe, the Arab region, Africa and the maghreb region enjoys a high reputation, has developed into a large scale in north Africa and more influential architectural exhibition.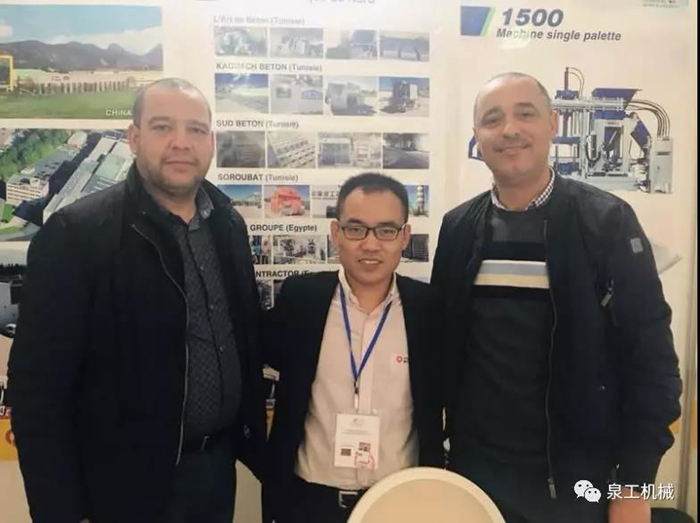 Therefore, this exhibition receives the international each big block making machine enterprise to take seriously and all sends the backbone team to participate in. Under this opportunity, in order to increase the visibility and competitiveness of enterprises, QGM is no exception. With the excellent performance of QGM, the booth of QGM was favored by many exhibitors at the exhibition site, and customers poured in.




With the successful promotion of "One Belt And One Road" strategy in recent years, it has successfully built a bridge for economic cooperation. The influence of Chinese enterprises in Tunisia is also growing and the speed of development is accelerating. In this exhibition, each participant and person in charge can deeply feel the enthusiasm of cooperation. At the same time, the successful operation of QGM in the Middle East and North Africa, such as balin gas production line, has made QGM more famous and become the representative brand of high quality brick machine in the mind of local building materials merchants.




What's more, Tunisia has attracted merchants from all over the world due to its unique geographical location, stable political situation, open trade policy and huge entrepot potential. In particular, neighboring countries need a lot of materials for their post-war reconstruction, which contains huge business opportunities. Undoubtedly, Tunisia has become the preferred transitional country for the supply of materials for the post-war reconstruction of neighboring countries.In Tunisia so far have no aerated brick production line, in the exhibition scene, quite a number of customers have intention to AAC production line, GQM sales personnel to seize the opportunity, with the most professional attitude, the best service quality for the customer the answer, and arrange for the customer to bahrain on-site fieldwork for AAC production line. It is believed that in the near future, the AAC production line of SPM will be successfully operated in the land of the land of olives.‍